WPML is a plugin for WordPress. Simply put, plugins extend the functionality of the basic WordPress CMS. In our case, WPML makes WordPress run multilingual.
WPML lets authors write content in different languages and translate content. It also includes advanced features for translation management and an interface for professional content translation.
Using WPML requires no technical or programming skills. Site admins can install it and turn their site multilingual, without any coding. WPML includes a complete API, for integrating with other plugins and translation systems. This way, developers can easily use WPML and turn their products into multilingual.
How Popular are WordPress and WPML?
WordPress powers over 35% of the entire Internet. For most up-to-date stats, see the number of downloads for the recent WordPress version (this isn't the number of WordPress sites, but only the number of times, the most recent version got downloaded).
Our stats show around 1 million sites running WPML.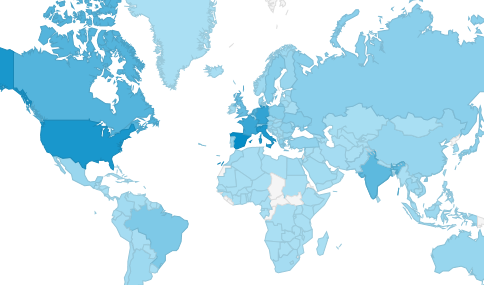 Most WPML clients come from Europe, North America, Asia and South America. The most popular languages for WPML clients are English, Spanish, French, German, Italian, Dutch, Russian, Japanese and Portuguese. The list goes on, with over 100 countries and languages.
We Provide Dependable Support
Sometimes, you'll need technical support. We go out of our way to provide accurate, knowledgeable and timely support.
WPML support team works 6 days per week, 19 hours per day. We have supporters covering Asia, Europe and the Americas.
Our supporters receive ongoing training, so that they know WPML inside and out and get your projects working ASAP.
The Team
WPML is a product of OnTheGoSystems. We are a global company with staff from six continents.
We're all working from our homes and connect via the Internet. Apparently, it works and has been a great way for us to live, work and create since 2007.
What Else we Make
Our other WordPress products include the Toolset family of plugins. We are also responsible for ICanLocalize – a professional translation service, optimized for WordPress sites translation, Mobile Apps translations and Multilingual SEO .
Getting in Touch
For business related queries, please use our contact form.
We're always looking for new talent to join us. If you are looking for a position in development or support, please use our jobs page.
If you are a client and need our help, head over to our technical support forum, where our support team is on standby 7 days a week.