WPML gives you the option to choose which content you would like to translate and send it for translation via the Translation Dashboard. You can set up this content to be translated by yourself, other users of your site, or professional translation services.
Translation Management is a feature included in WPML's Multilingual CMS and Agency accounts that lets you set up translators for your site, choose which content you want to send for translation, and manage your translation jobs. Even if you choose to translate your entire site automatically, there may still be some content you need to translate using Translation Management.
Watch the following short video to see how fast and easy it is to translate content using WPML Translation Management:
On This Page
Deciding Who Will Translate Your Site
WPML gives you the option to:
There are two places you can choose who will translate your site:
In the setup wizard after activating WPML for the first time. Be sure to choose the option Translate Some: I want to choose which content to translate.
By going to WPML → Translation Management and clicking the Translators tab.
| Deciding who will translate your site in the WPML setup wizard | Deciding who will translate your site in Translation Management |
| --- | --- |
| | |
It is not possible to connect a professional translation service if your site is set to translate everything automatically. Similarly, you cannot enable that translation mode if you already have a professional translation service connected.
Users set up as translators also have the ability to review automatic translations if you use Translate Everything mode to translate your whole site automatically.
Translating Pages, Posts, and Custom Post Types
To translate a page, post, or post type from the Translation Management Dashboard:
Use the filter to choose which type of content to show in the list.
Select content that needs to be translated.
Choose which languages to translate into (or duplicate).
Add to the translation basket.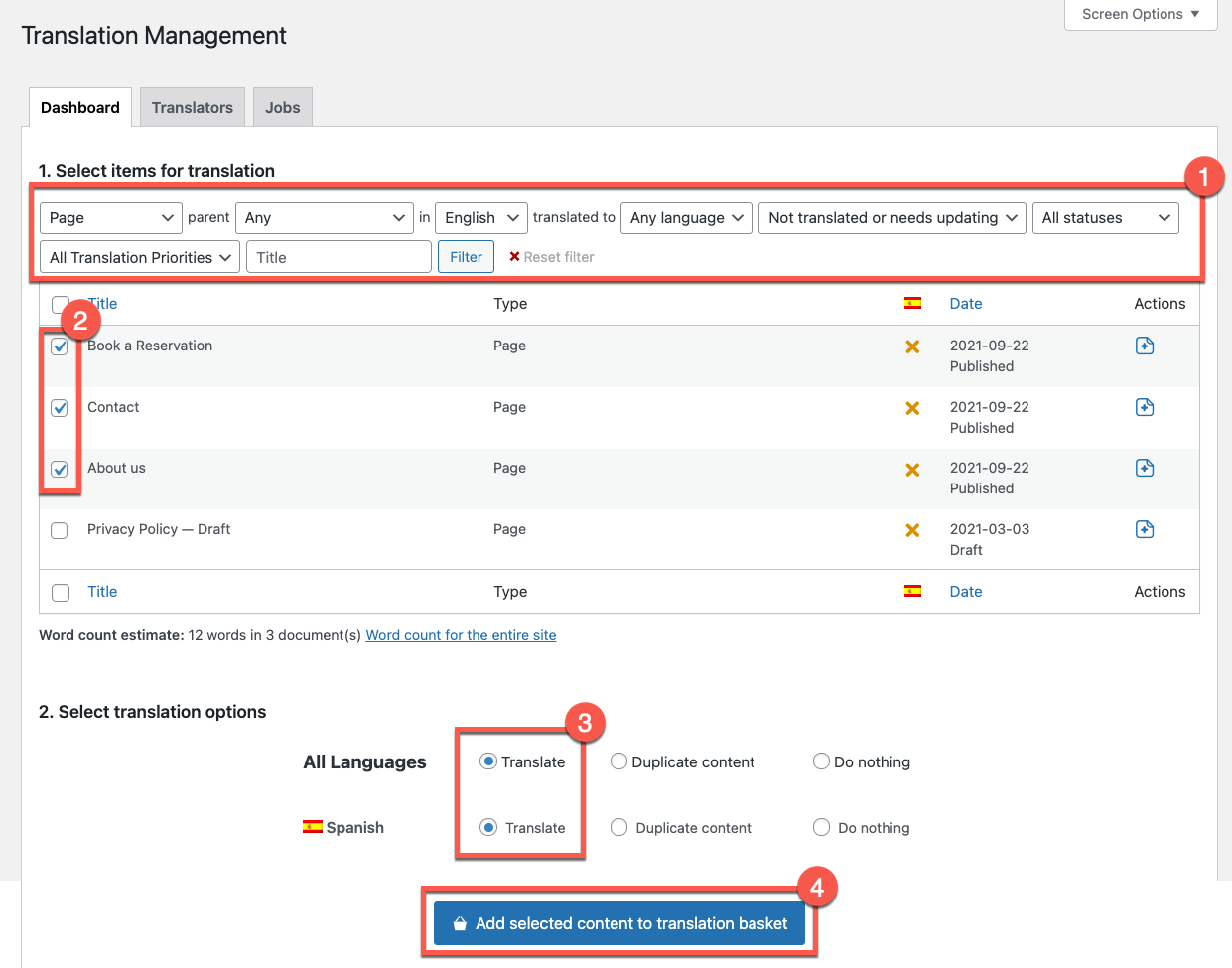 You can repeat this process several times before actually sending the content (basket) for translation. In this way, you can collect content from different parts of the site and send it for translation in one batch.
If you are the site's only translator, there is no translation basket. You can instead access any of your translation jobs from WPML → Translations.
When you have finished adding content to the basket, click on the Translation Basket tab. This is similar to the checkout step on eCommerce sites.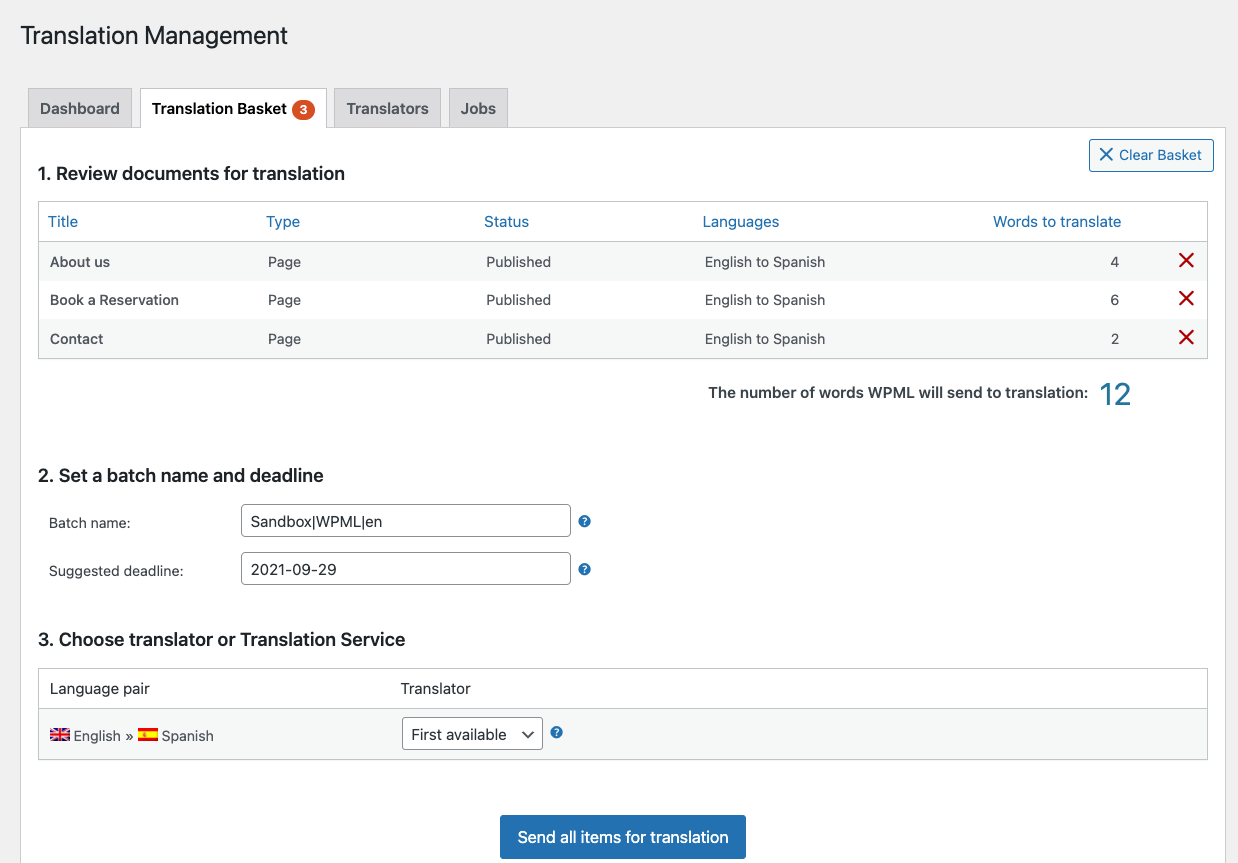 Review the content you are sending for translation and choose who will translate it (if a language has several translation options). You can also give the batch a name and set a deadline. Then, send it for translation.
To get an estimate of how much content you are sending for translation, use the WPML's website word count tool.
Translating Strings
You will usually send content that needs to be translated from the Translation Management Dashboard. However, sometimes you need to translate texts that do not belong to any specific page. For example, you may need to translate widget titles or the site's tagline.
To do this, use WPML's String Translation:
Search for your strings using the filters at the top of the page.
Select the strings you want to translate.
Add them to your translation basket.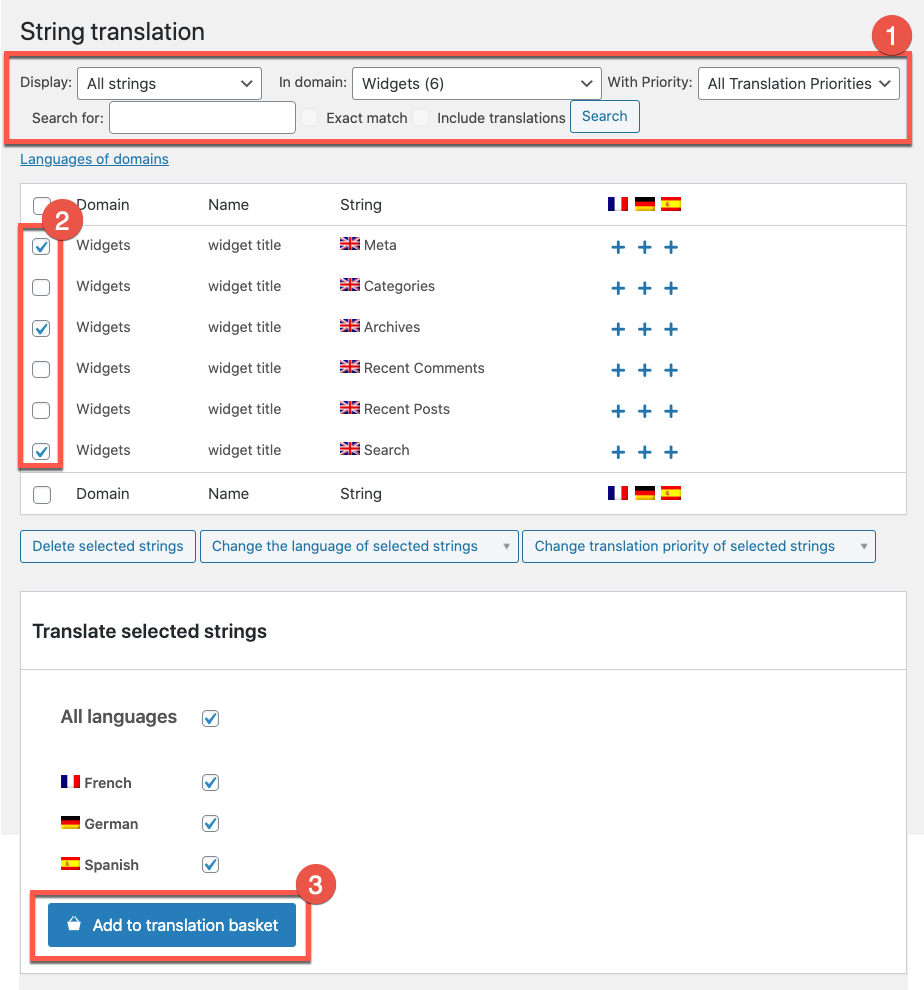 Then, go to WPML → Translation Management and click the Translation Basket tab to finish sending your strings for translation. If you are translating the site yourself, go to WPML → Translations to take and translate the translation job.
Translating Media
Some of your content will include images and other media. For example, you can have pages with screenshots or attached PDF documents.
Normally, translated content will include the exact same media as the original content. You can use the WPML Media Translation add-on to set different media for translations.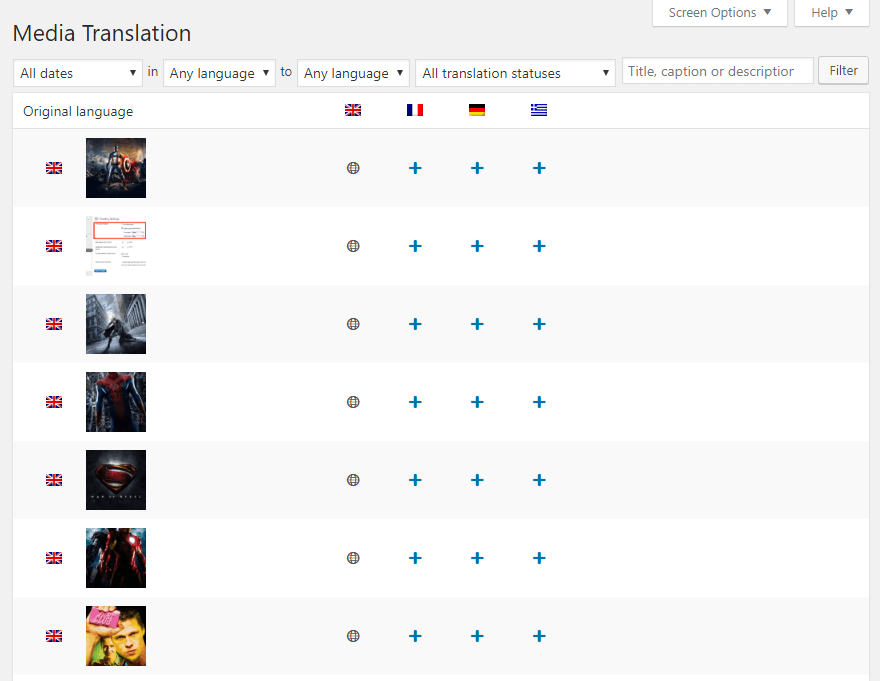 How to Cancel Translation Jobs
Translation Managers and site owners can cancel translation jobs that are not yet being translated.
Please note that if a job is already assigned to a translator and in progress, you may not be able to cancel. If you use a professional translation service, you may still be charged for the translation if it is already in progress.
To cancel a translation job:
Go to WPML → Translation Management and click the Jobs tab.
Find the job you want to cancel.
Click the X icon.
If you use Translate Everything, the Jobs tab is not available. All jobs are translated automatically, and it is not possible to cancel.
How To Check the Status of Translation Jobs
You can see the status of jobs that you have sent for translation in two places. The Translation Management Dashboard shows status icons next to each document.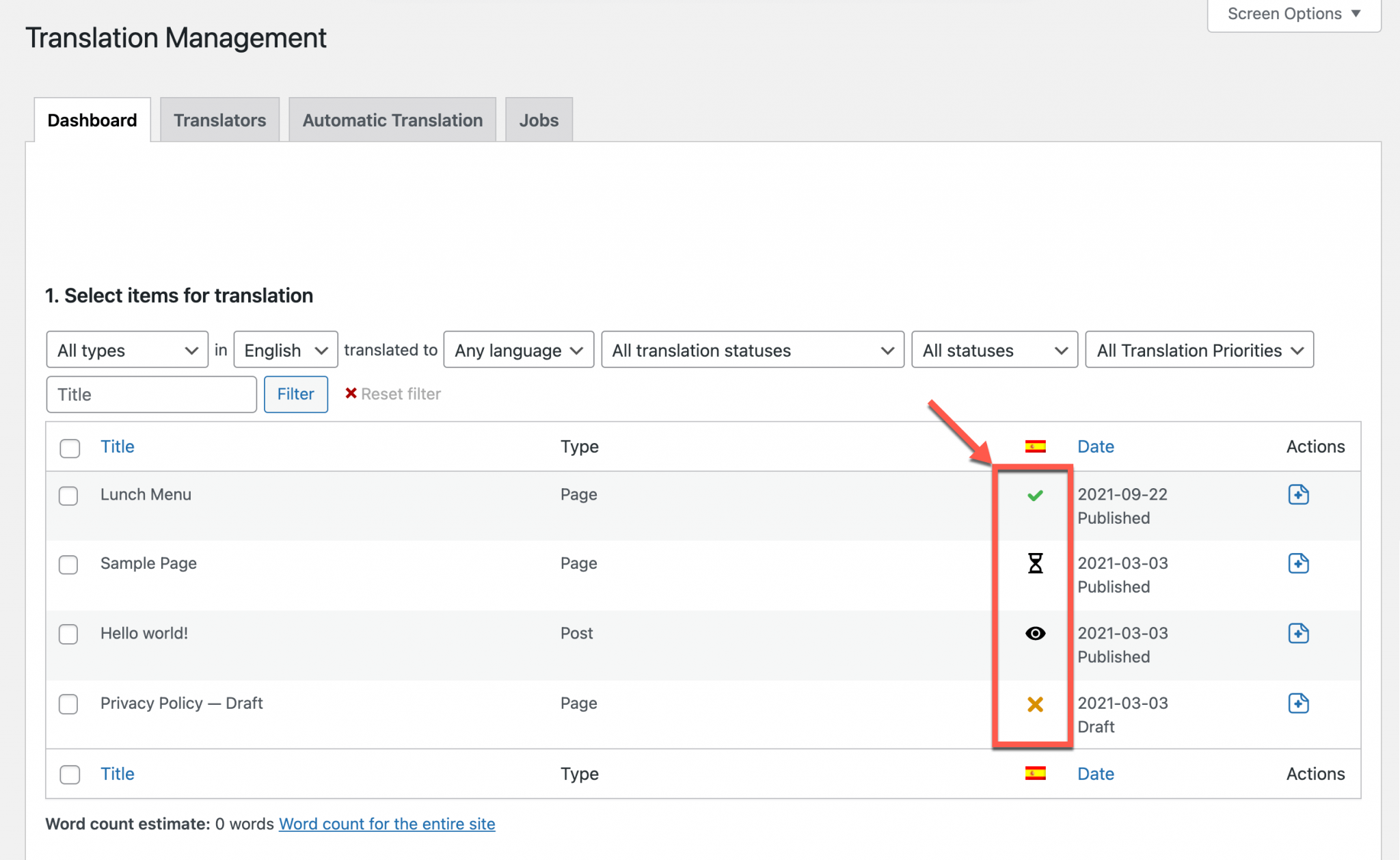 Hover over these icons to see their meaning.
Depending if you have already sent the page for the translation you will see one or two Actions icons:
You can attach a Note for the translators by clicking on the icon marked with the plus sign.
The Check status and get translations icon shows when the translation job by a remote translator is in-progress.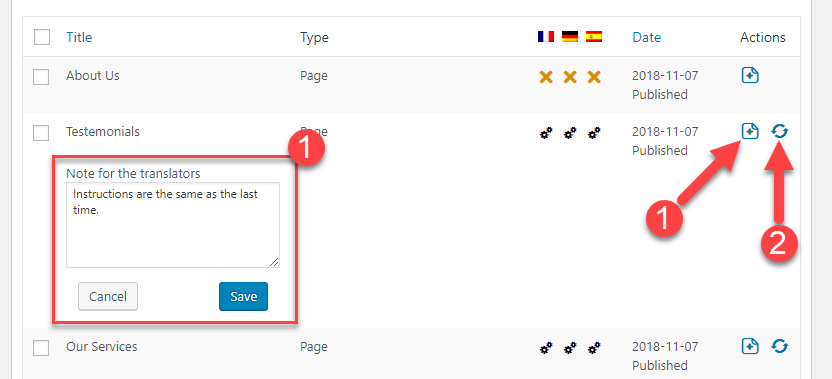 For more details, go to the WPML → Translation Management page and click the Jobs tab. There you will see a list of all your translation jobs, and you can cancel any jobs that you have sent and are not yet under translation.