WPML makes it easy and affordable to translate your site and keep those translations up to date using automatic translation. You can choose from Google Translate, Microsoft Azure Translator, and DeepL Translator to generate your translations, then review those translations before or after publishing them to your site.
There are two ways to use automatic translation on your site:
To translate content automatically, please be sure you have enabled the Advanced Translation Editor in WPML → Settings. You also need to either assign automatic translation credits to your site or sign up for pay-as-you-go.
Before choosing an automatic translation engine, we suggest you take a look at the list of supported languages for automatic translation with WPML.
Translating Your Whole Site Automatically
WPML lets you translate entire sites using a combination of automatic translation and human review. You can use this setting to translate the following types of content:
Posts
Pages
Taxonomy terms assigned to any posts or pages
WooCommerce Products
Some content from popular plugins
Your site might also feature custom post types and custom fields. By default, these will not usually be automatically translated. However, you can easily enable automatic translation for any post type, custom field, or taxonomy on the WPML Settings page.
To translate your whole site automatically, choose Translate Everything in the WPML setup wizard or in WPML → Settings. You can choose to:
Review the translations before publishing (recommended)
Publish translations and review them later (good for when you're publishing a lot of content and can't review in real time)
Publish translations without reviewing (your translations may have some inaccuracies)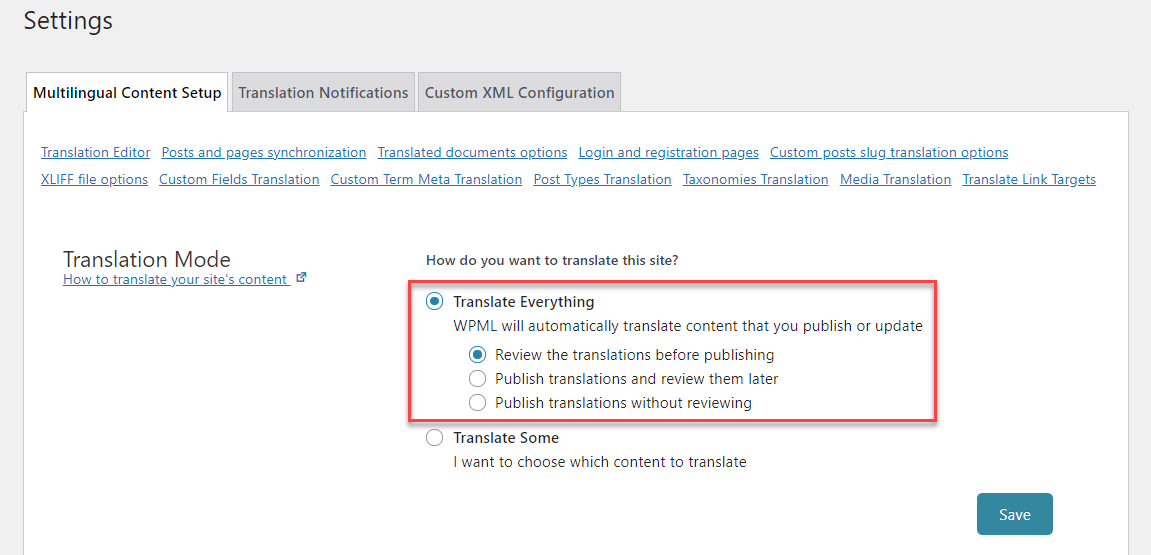 With this setting enabled, you don't need to send any of your posts and pages to translation. Instead, WPML will translate them in the background any time you publish new content or edit existing content. This means your site will always have up-to-date translations.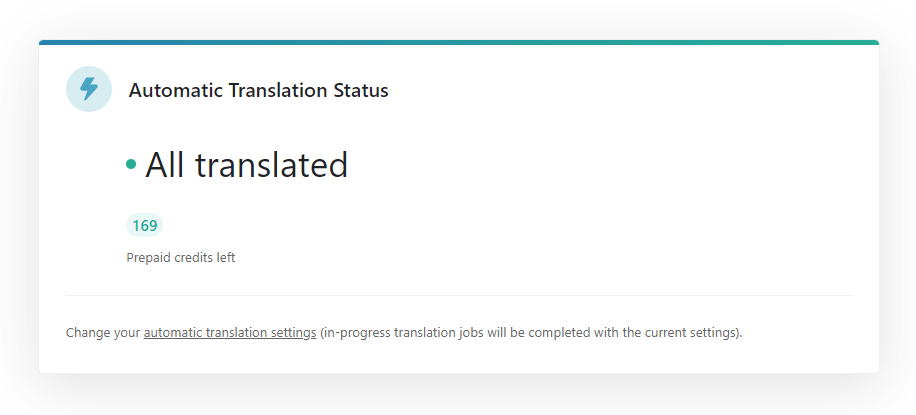 When your translations are ready, you are notified that they are ready for a review. You can review translations yourself or hire a reviewer for your site. Learn more about how to review your automatic translations.
Please note that this feature does not automatically translate the following:
Unpublished drafts
Content created in a secondary language
Pages or posts that were previously translated using a different method. This is so you won't overwrite existing translations. Instead, please continue to use the same translation method you used originally to translate those pages and posts.
Translating Individual Pages, Posts, and Other Content Automatically
If you don't need to translate your whole site, you can still use automatic translation for the content you do want to translate. Automatic translation is great for generating quick translations, first drafts, short texts, e-commerce product descriptions, and more.
To translate individual pages, posts, or other content, select Translate Some in the setup wizard or in WPML → Settings.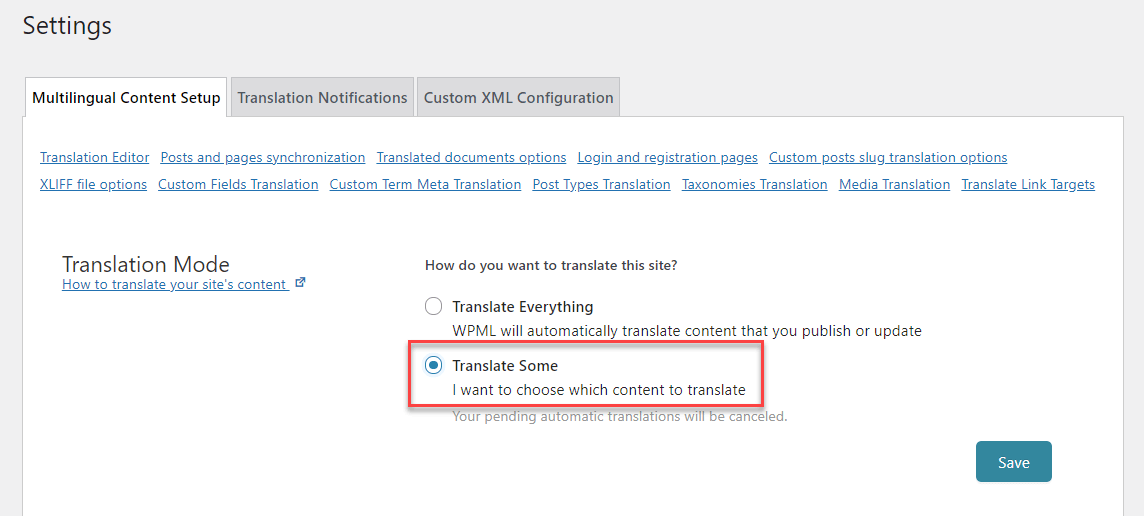 When you or one of your site's translators opens a translation job in the Advanced Translation Editor, simply click the blue Translate Automatically button at the top of the page. This will instantly fill in the translations for the content you are translating.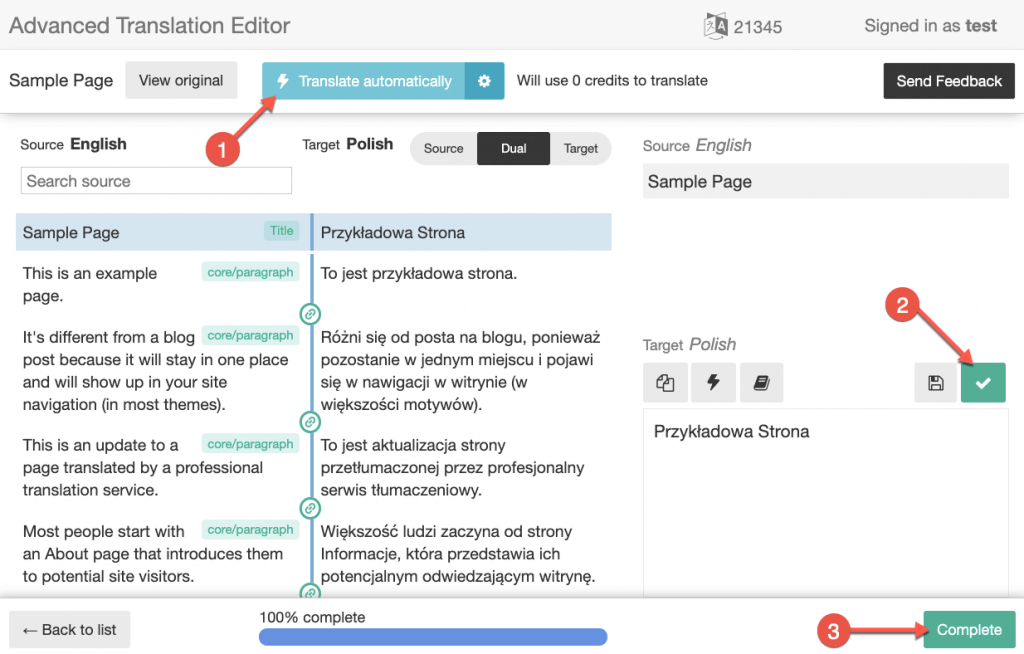 Check and accept the translation of each sentence by clicking the green check button. When you're done, click Complete.
You can also automatically translate multiple jobs at once to save you even more time.
Try Automatic Translation for Free
The vast majority of sites can use automatic translation for free!
If you choose to pay-as-you-go, your first 2,000 credits each month are free. To set up pay-as-you-go, go to WPML → Translation Management and click the Automatic Translation tab. Then, click the Activate Pay-As-You-Go button.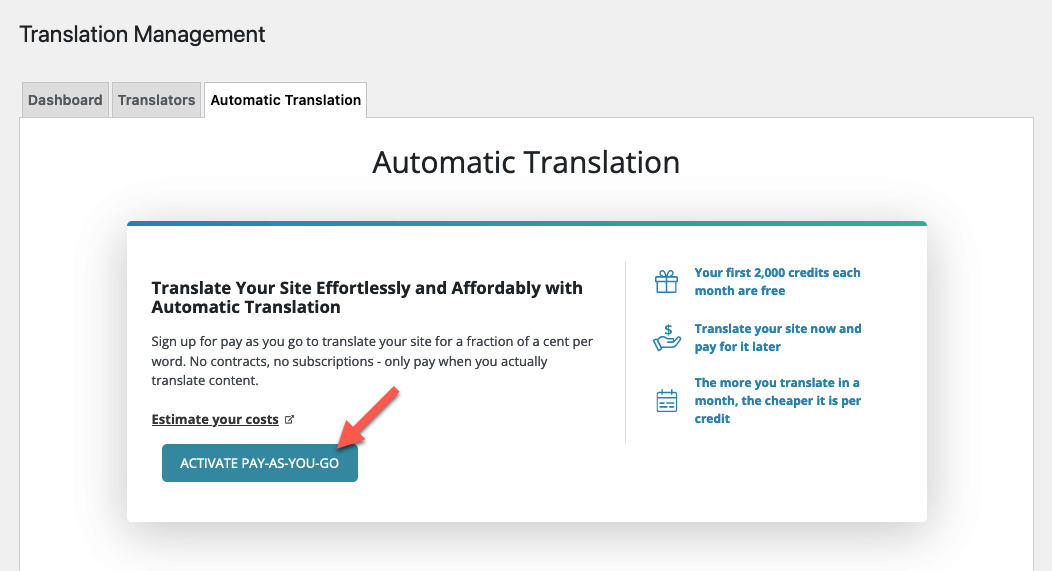 Plus, new Multilingual CMS and Agency accounts purchased after the release of WPML 4.5 (September 29th, 2021) come with free automatic translation credits included in their WPML.org account. Credits for these (new) accounts top up each time you renew your account and can be assigned to any of your registered sites.
Based on our research, these credits are enough to translate the majority of sites. Here is what's included:
| | | |
| --- | --- | --- |
| Account Type | Free credits included | Free credit top-up with renewal |
| Multilingual CMS | 90,000 | 60,000 |
| Agency | 180,000 | 120,000 |
If you need to translate more content, WPML offers convenient and affordable options to pay for automatic translation. Read more about pricing for automatic translation.