Sobre nós
Kinsta foi fundada em 2013 com o desejo de mudar o status quo. Estabelecemos a melhor plataforma de hospedagem do mundo e essa é nossa missão.
Começamos com a hospedagem gerenciada de WordPress, adicionamos a hospedagem de aplicativos ehospedagem de banco de dados, e estamos em constante evolução para fornecer ferramentas e serviços líderes da indústria para o desenvolvedor moderno. Estamos comprometidos em fornecer a melhor experiência para desenvolvedores e empresas, construindo para o desempenho e a facilidade de uso.
Junte-se ao crescente clube de 25800 empresas que mudaram para uma hospedagem melhor e mais rápida.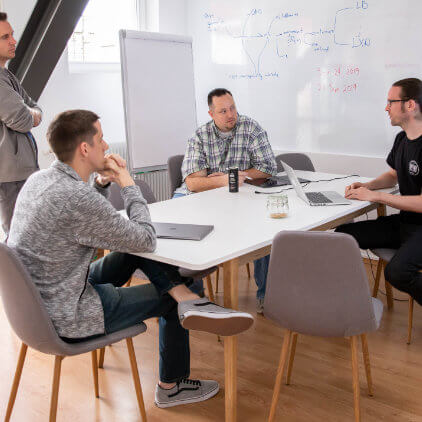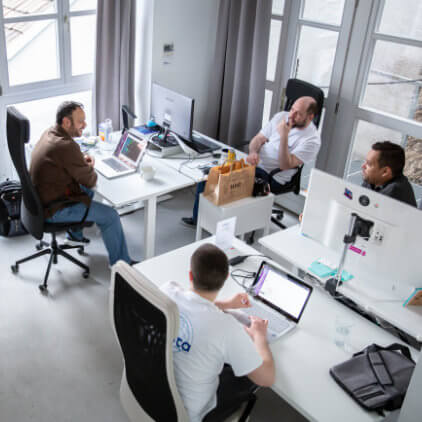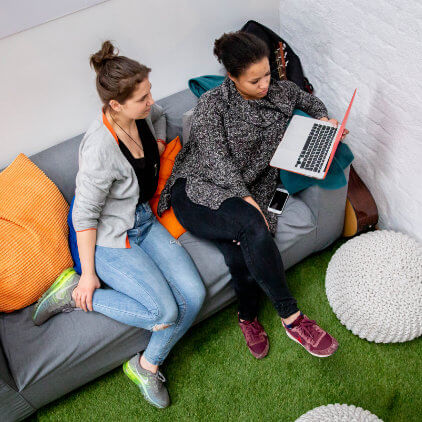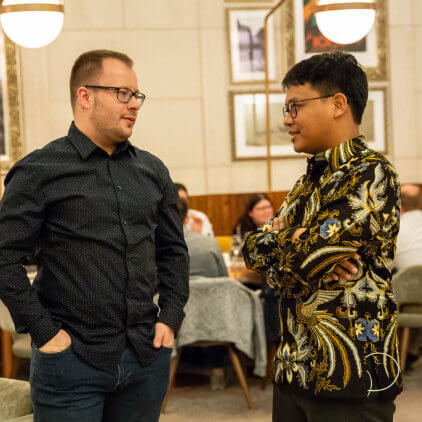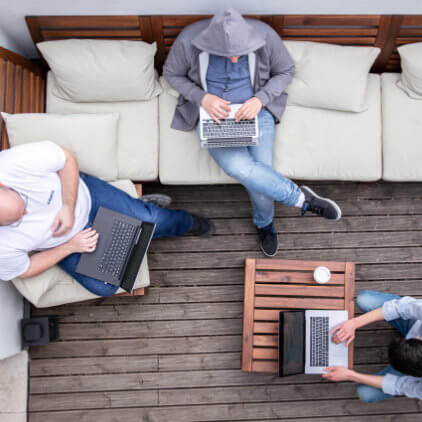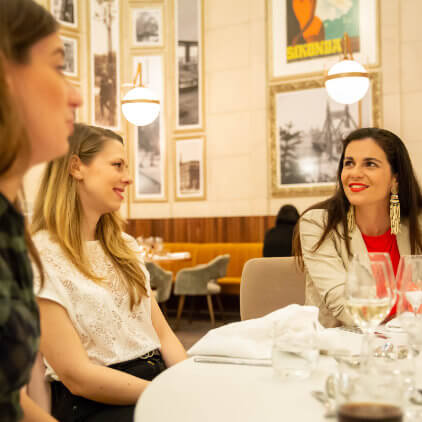 Kinsta está crescendo
Nossa equipe está totalmente distribuída ao redor do mundo.
Estamos sempre em busca de grandes talentos que compartilhem dos mesmos valores e sejam tão entusiasmados pelo desenvolvimento centrado no cliente quanto nós.
Nossas ofertas de trabalho
Kinsta está obcecada com o desempenho
Imagine um entusiasta de automóveis construindo o passeio dos seus sonhos. Isso somos nós com a hospedagem. Adoramos o que fazemos e estamos obcecados com o ajuste fino de nossos servidores para oferecer o máximo de velocidade.
Impulsione o seu site hoje
Kinsta é a configuração de servidor mais rápida que já tivemos. Não está nem perto. A velocidade é tão crítica para o eCommerce.
Kinsta é global
Atendemos milhares de clientes de 128 países de todo o mundo. O único continente que ainda não alcançámos é a Antártida.
Absolutamente fantástico - não pode avaliar o suficiente em termos de velocidade, suporte e interface do usuário. Fui do WP Engine para o Flywheel e depois para Kinsta e não poderia estar mais feliz.

2.500
conversas de apoio semanais
30.000+
gigabytes de tráfego diariamente
99,9%
tempo de funcionamento garantido
Kinsta é local
Não importa onde no mundo, nós gostamos de ser locais. É por isso que contratamos uma equipe de suporte remoto que cobre todos os fusos horários. Também oferecemos suporte em 5 idiomas.
A equipe de suporte responde o chat on-line imediatamente sempre que tento entrar em contato. Eles conseguiram resolver qualquer problema rapidamente, mesmo em nosso fuso horário.
Kinsta é diversificada
Nossa equipe está totalmente distribuída em todo o mundo. Isto nos permite contratar os melhores talentos do mundo sem fronteiras.
A nossa diversidade também é o nosso poder. Todos nós vimos de diferentes estilos de vida, e isso amplia nossa perspectiva unificada. Isso induz a uma compreensão que podemos usar diariamente quando interagimos uns com os outros ou com os clientes.
Adam Golya
JavaScript Developer
Adam Tamics
Development Team Lead
Adriaan van der Kolff
Support Engineer
Adrian Bigaj
JavaScript Developer
Adrian Lorica
Support Lead APAC
Adrian Sebastian Izquierdo
Affiliate & Partnerships Manager
Agnes Gugi
Global Expansion Associate
Alejandro Oviedo
Senior Javascript Engineer
Alex
Web Design Team Lead (Mon-Fri 9-5 GMT)
Alex Auvenshine
DevOps Engineer
Alexander Ando Michaelson (Alex)
Business Development Manager APAC
Alexander Dreith
Development Team Lead
Alexandra Simon
Multilingual SEO Associate
alexbykov
Quality Assurance Associate
amakaikpeazu
Sales Trainer
amielvincent
Support Engineer
Ana Sekulic
HR Generalist (EMEA)
Anabel Tamayo
Sales Development Representative
Andelko Lezajic
Support Engineer
Andhi Abdillah
Support Engineer
Andis Livdans
Senior product designer
Andras Gerencser
Director of Development
Andre Cardoso
DevOps Engineer
Andrea Zoellner
VP of Marketing
Andres Escobar
Support Engineer
Andrew Caliao
Support Manager APAC
Andrew Cherry
Security Engineer
Andy Vasile
SysOps Engineer
Anett Szekeres
Global Expansion Team Lead
Angi K-Horvath
Quality Assurance Associate
Anita Dunai
Head of Local Operations
Anna Dendinger
Senior Billing Representative
Annamaria Boda (Annamari)
Senior HR Generalist EMEA
Annamaria Pethe
Javascript Developer
Annamaria Soos
JavaScript Developer
Antonio Bustamante
HR Generalist
Antonio Carmona
Product Designer
Antonio Tinoco
Junior SEO Specialist
Arcel Mukadi
Technical Support Engineer
Armando Oviedo
Sysops Shift Lead
Aron Benkoczy
JavaScript Developer
Attila Gyorgy Mandoki
Quality Assurance Team Lead
Attila Szegedi
Head of Marketing Design
Balazs Salfay
Product Manager
Barnabas Urmossy
JavaScript Developer
Bence (Ben) Farkas
Account Executive
Bence Graner
JavaScript Developer
benclayton
Agile Coach (Mon-Fri 9-5 BST)
Bladimir Fernandez
Support Engineer
Bogdan Stratulat
Support Engineer
Bojan Ulemek
Head of SysOps
Brittany Bose
Junior Account Executive
Buki Andras Bence
Global Expansion Trainee
Camila Ortega
Talent Acquisition Specialist
Carlo Daniele
Business Development Manager Italy
Carlo Zablan
JavaScript Developer
carolinecoyne
Senior Technical Writer
Chad Davadi
Migrations Engineer
Chris Ksiazak
Javascript Developer
Christi Nickerson
Technical Documentation Creator
Christophe Asselin de Beauville
Account Executive - French Markets
Cintia Nyerges
Javascript Developer
condor van heijningen
Senior Account Executive
Cosmin Tataru
Migrations Engineer
Csaba Valyi
Javascript Developer
Csaba Varga
Director of Product
Dani
JavaScript Developer
Daniel Harfouch
Chief Global Strategist
Daniel Oliver
Senior Support Engineer
Daniel Siket
Product Designer
Danielle Hardy
Lead Account Manager
Darla Toth
Global Expansion Specialist
David Greene
Head of Internal Support
David Liszkai
Quality Assurance Associate
David Nyikes
JavaScript Developer
Diana Egbewunmi
Travel and Events Coordinator
Ed Rishel
Malware & Abuse Engineer
Elena Galli
Employer Branding Specialist
Ella Mabrito
Sales Development Representative
Elod Kuthy
JavaScript Developer
Emerson Veenstra
DevOps Engineer
Eniko Agotai
Multilingual SEO Associate
Erick Fogtman
Product Manager
Eugene Wozniak
Malware & Abuse Engineer
Evelin Nagy
HR Manager EMEA
farhanfaisal
Malware & Abuse Engineer
Felix Savino
Sales Development Representative
Ferenc Pusztai
Multilingual SEO Team Lead
Fotis Alexandrou
JavaScript Developer
Francesca Romana Viscido
Italian Localization Specialist
Franchesco Kelvin Villanueva
Support Engineer
Fredrick Neo
Support Engineer
GAMO NANA Servais Randolph
Support Engineer
Gema Sandoval Obando
Financial Assistant
Gergo Ferenczi
JavaScript Developer
Gerson Abrego
Technical Support Engineer
Ghassen Slama
Support Engineer
Giulio Daprela
Backend Developer, MarTech
Giuseppe Silletti
JavaScript Developer
Grant Richmond
Frontend Developer
Hannah Phillips
Customer Operations Manager
Hristina Mitkova
Support Manager EMEA
Ian Eustis
JavaScript Developer
Ilias Kypraios
SysOps Engineer
Isaac Noboa Polanco
Support Engineer
Iskak Agus Rachmat Utomo
Internal Support Engineer
Istvan Greczi
Javascript Developer
Jade Suzarte
Multimedia Specialist
Jason Kuberka
Head of Migrations
Jed Banaag
Senior Migrations Engineer
Jeff Paul
Director of Technical Support
Jeff Sarlo
Support Engineer
Jelena Stosic
Support Engineer
Jenna Recktenwald
DevOps Engineer
Jeremy Landau
Development Team Lead - Kinnect
jerryrelunia
Javascript Developer
Jesse Luimes
Head of Growth
Joel Olawanle
Technical Editor
Joeri Smissaert
DevOps Engineer
joewells
Growth Marketing Content Specialist
John Mark Causing
SysOps Engineer
John O'Donnell
Talent Acquisition Specialist
Jon Penland
Chief Operating Officer
Jonatan Schneider
Employer Branding Lead
Jonathan Wilson
Support Engineer
Jorge Diaz
Support Engineer
Jovana Djordjevic
Support Engineer
Julian Plaku
Support Enginner
Julio Adam Pratama
Support Engineer
Kadek Suryadharma
SysOps Engineer
Karelis Ramos
Client Experience Specialist
Katalin Juhasz
Outreach Coordinator
Katelyn Pauley
Support Lead Americas
Kathy Sheng
PPC Specialist
khaledbarbar
Support Engineer
Kiera Kosciolek
Social Media Manager
Kristiyan Lukanov
Product Researcher
Kristof Dombi
Head of Development Operations
Kristof Siket
Development Team Lead
Laszlo Farkas
Director Of Engineering
Laszlo Toth
JavaScript Developer
Lauren Cool
Legal Operations Administrator
Lauri Gombos
DevOps Engineer
Leroy Bobadilla
Key Account Manager
loisedizon
Marketing Assistant
Lorant Toth
Product Design Lead
Louis Del Valle
Support Engineer
Maciek Palmowski
Development Advocate Analyst
Magda Macias
Financial Assistant
Manoj Manduva
Product Designer
Marcel Bootsman
Marketing Manager Dutch Market
Marcelo Gutierrez
SysOps Engineer
Maria Magyar
JavaScript Developer
Maria Mavromataki
JavaScript Developer
marijazivkovic
Graphic Designer
Mario Dimov
SysOps Shift Lead
Marton Szvetko
Full Stack Architect
Matteo Duo
Head of Content
matthaddon
Javascript Developer
Megan Dermody-Hall
Account Executive
Melissa Choy
Head of Marketing Technology
Melissa MacKenzie
Head of Support
Mercedes Caldwell
Account Manager
merhawiselassie
JavaScript Developer
Merineth Edullantes
Support Lead APAC
Micha Yugto
Support Engineer
Michael Lyon
JavaScript Developer
Michael Manolioudis
SysOps Engineer
Michal Zuber
DevOps Engineer
Mike England
Development Team Lead
Mike Mortimer
Training Coordinator
Mike Price
Migrations Engineer
Milan Szakacs
Senior Development Manager
Mina Mikhail
SysOps Engineer
Mitul Patel
Javascript Developer
MJ Uy Nicolas
Account Executive
Mogyorodi Balazs
Javascript Developer
Mohamed Kotp
Support Engineer
Mohit Rajpara
Senior Technical recruiter
Monica Martinez
Project Manager
Natalie Wiggins
Product Designer
Nathan Bliss
Chief Sales Officer
Nelson Leiva
SysOps Engineer
Nick Sansivero
Demand Generation Specialist
Nicolas Ramirez-Diaz
JavaScript Developer
Nicole Coetzer
Head of Sales Development
Nikola Djuric
Senior Support Engineer
Nikos Stouiloudis
Demand Generation Team Lead
Norbert Szabo
JavaScript Developer
Pablo Farinas
Compensation Manager
Paola Uy
Support Engineer
Patience Mendivil
Support Engineer
Patrik Szigeti
Multilingual SEO Specialist
Paulo Paracatu
DevOps Engineer
Pedro Veracierto
Account Executive
Peter Kovacs
Director of Global Expansion
Peter Lubbs
SysOps Engineer
Peter Polgar
Head of Product Design
Peter Seprus
JavaScript Developer
Peter Skolak
Product Manager
Peter Sziraki
Senior Support Engineer
Peter Viola
Javascript Developer
Preston Lambrecht
Head of Sales
R. D. David Young
CFO & General Counsel
Rachel Braedyn
Product Researcher
Rachel Devine
Director of Sales Operations
Ramil Bermejo
SysOps Shift Lead
Ramy Allam
DevOps Engineer
Rebecca Escamilla
Billing Representative
Rebeka Szabo
Global Expansion Intern
Richard McMullan
Documentation & Training Coordinator
richardfalconer
Head of Developer Experience
Rita Szalkay
Business Development Assistant
Robert Miller
Senior Full Stack Developer
Roberto Villarreal
Director of Client Success
Rodney Nellas
SysOps Engineer
Roger Williams
Head of Client Experience
Roula Vastis
HR Generalist
Rubelyn Eng
Senior Support Engineer
Ryan Ward
Billing Representative & Account Manager
Salman Ravoof
Technical Editor
Salvador Aguilar
Malware & Abuse - Lead
Sandor Negyeliczky
Developer
Sandor Patyi
Quality Assurance Associate
Sara Prakasita Dewi
Support Engineer
Sarwar kori
SysOps Engineer
Sean Canavan
Digital Advertising Specialist
Serena Wu
Marketing Project Manager
Serghei Culesov
Javascript Developer
Shannon Lam
Marketing Editor
shawnchollette
Support Engineer
Shusei Toda
Business Development Specialist
Sonia Jimborean
Account manager
Stefan Florescu
Javascript Developer
Stefanie van Elswijk
Finance Assistant
stephanrotolante
JavaScript Developer
Steve Bonisteel
Technical Editor
Szabina Knetik
Global Expansion Team Lead
Tamas Vasenszki
Quality Assurance Associate
Taryn Bonugli
Director of Talent Acquisition
Tatiana Gripasova
JavaScript Developer
Teodora Vegh
Culture Team Lead
Thoriq Firdaus
Senior Full Stack Developer
Tiago Almeida
Full Stack Architect
Timea Schnebli
Sales Development Representative
tjprawel
Sales Development Representative
Tom Sepper
Chief Customer Officer
Tom Zsomborgi
Chief Business Officer
Trajche Cekov
SysOps Engineer
traviswhite
JavaScript Developer
Vela Farquharson
JavaScript Developer
Victor B Andersen
JavaScript Developer
Viktoria Korodi
Head of Quality Assurance
Viktoria Naczi
Project Coordinator
Viktoria Vass
Product Designer
Vilte Ziaunyte
TA Candidate Experience Coordinator
Vladan Milenkovic
Support Engineer
Vladimir Milosavljevic
Support Engineer
Vladimir Tanovic
Support Lead EMEA
Wayne Gordon
Support Engineer
Yuri Kague
Graphic Designer
Zaina Xavier
Director of Human Resources
Zsofia Hidas
Talent Acquisition Coordinator
Zsolt Makrai
Developer Team Lead
Resumindo, — estas pessoas sabem como contratar e manter trabalhadores a distância.
Kinsta ama os desenvolvedores
Assim como você, somos todos membros da comunidade web: usuários, desenvolvedores, e entusiastas. É por isso que construímos nosso negócio em torno da oferta de uma plataforma e ferramentas para executar serviços web rápidos e sites com facilidade.
Também tentamos retribuir sempre que podemos: apoiar as comunidades locais, patrocinar conferências e encontros, e contribuir para projetos de código-fonte aberto.
Por favor, ajude-me a aplaudir @kinsta por sua generosidade em apoiar #WCUS com seu tempo, talento e apoio financeiro. Eu sinceramente aprecio a paixão e o entusiasmo que vocês compartilham com a comunidade WordPress.
Kinsta está criando uma experiência melhor para cada cliente
Nossa dedicação à hospedagem de alta qualidade significa inovar continuamente para atender às necessidades evolutivas de nossos clientes. As funcionalidades que desenvolvemos, nossa pilha de tecnologia, interface e suporte são todas projetadas para oferecer a melhor experiência da categoria.
Estamos orgulhosos de ser uma das empresas que mais cresce no setor e nos esforçamos para elevar o nível todos os dias.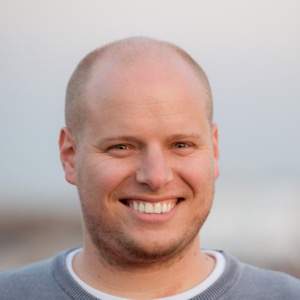 Nosso plano é criar uma plataforma onde os desenvolvedores possam encontrar tudo o que precisam para executar um serviço web com facilidade, para que possam se concentrar em criar e compartilhar seu melhor trabalho com o mundo.
262%
Crescimento da base de clientes em 2018
97%
Índice de satisfação do suporte