Pressable Alternative – The Benefits of Choosing Kinsta
If you're looking for a Pressable alternative for managed WordPress hosting, Kinsta should be your top choice. Powered by the Google Cloud Platform and its premium tier network, Kinsta offers WordPress hosting that is optimized for speed and performance.


Introduction
Pressable is a decent choice for WordPress hosting. It is a managed hosting provider that uses a dedicated server architecture to provide solid performance. 
Kinsta, on the other hand, is powered and recommended by the Google Cloud Platform. Our sophisticated platform includes virtual machines located in 35 global data centers.
Kinsta's architecture makes it a unique option among WordPress hosting providers. Thanks to Google's top-of-the-line technologies, Kinsta is able to provide unmatched scalability for each website we host. On top of that, you get access to a team of WordPress experts who take care of all system administration and support tasks for you.
At first glance, Kinsta and Pressable may look similar. However, there are a lot of underlying differences that are worth considering. Every day we hear from frustrated clients looking for a Pressable alternative, and who want to know what makes Kinsta so powerful. That's what we'll answer here.
How Kinsta Compares to Pressable Hosting in a Nutshell
Kinsta is the first host to be powered exclusively by the Google Cloud Platform. Google's premium-tier network positions us to maximize the speed, security, and performance of each site hosted on our platform.
We are also proud to be the highest-rated managed WordPress host on G2, the world's leading software review and comparison site:
Enjoy a 20% Faster Website Simply by Moving From Pressable to Kinsta
We measured 3,200+ migrations over the course of a three-month span. On average, client sites experienced 20% faster load times just by moving to Kinsta.
How is this possible? Our customers enjoy:
A stack that's been fine-tuned for WordPress over the past 8 years
Google's Premium Tier Network to deliver website data faster
Free CDN powered by Cloudflare's global network of 275+ locations
Built-in Edge Caching that cuts the time needed to serve cached WordPress HTML by an average of

more than 50%!
Migrate from Pressable to Kinsta hassle free with our free expert migration service. With our 30-day money-back guarantee, you can test out the service and improved speeds completely risk-free. You only lose if you don't give this a try!
Both hosting platforms offer plans that cater to WordPress newbies and enthusiasts. However, Kinsta packs a particularly broad range of features that are ideal for everyone from beginners to developers.
Some additional key differences between Kinsta and Pressable include:
Kinsta offers a much broader range of WordPress hosting plans, which provides you with a greater degree of choice and scalability. Pressable only offers four plans for its users.
Kinsta houses every WordPress site in its own isolated container, which has all of the software resources required to run it (Linux, Nginx, PHP, MySQL). The resources are 100% private, and are not shared between anyone else or even your own sites. Pressable does not use isolated container technology.
Kinsta has 35 data centers across the globe, while Pressable has only four.
All sites on Kinsta are protected by our Cloudflare integration. In addition to a secure firewall, Kinsta customers have access to free DDoS protection as well.
All of our plans include free premium DNS. Pressable doesn't offer premium DNS options.
Kinsta offers six types of backups: free automatic/daily, optional hourly, manual, system-generated, downloadable, and external backups sent automatically to Amazon S3 or Google Cloud Storage. We also offer one-click backup and restore features. Pressable only offers automatic backups every 24 hours.
Kinsta uses a unique caching system to automatically cache pages on the server level, which eliminates the need for any plugins or add-ons. Pressable uses Batcache and Memcached.
Kinsta support, composed of WordPress experts and Linux engineers, is available 24/7 for every customer via live chat. Pressable offers customer support via live chat and a Slack channel. Premium support is available as an add-on.
Kinsta offers free, expert-performed services with all of our plans. Pressable uses a plugin for automated migrations, which isn't as reliable.
Kinsta uses a custom dashboard designed to provide the most user-friendly experience possible, called MyKinsta. Pressable also gives you access to a custom dashboard, albeit with fewer options.
All Kinsta plans include free access to our in-house developed application performance monitoring tool (Kinsta APM).
With Kinsta, you get access to automatic MySQL database optimizations.
Kinsta is developer-friendly and includes SSH, WP-CLI, and Git on all plans. Unlike Pressable, we support advanced configurations such as Bedrock, IP Geolocation, reverse proxies, Redis, etc.
Each Kinsta website can have its own staging environment, which you can push to production with a click. Pressable also offers staging functionality, but limits the number of sites that you can create (with up to five staging sites for a 10-site hosting plan).
Both Kinsta and Pressable offer 30-day refunds. However, if you participate in a free trial for Pressable and then sign up for a plan, you won't qualify for a refund.
Try it out for yourself with our free MyKinsta dashboard demo! Register your account to see the user-friendly interface and explore our various tools.
Kinsta is Built for Performance and Scalability
While both Kinsta and Pressable fall into the same category of managed WordPress hosting, their infrastructures couldn't be more different. 
With Kinsta, you get access to the Google Cloud Platform. We take Google's virtual machines and configure them to deliver unparalleled WordPress performance. Although you could sign up for Google Cloud directly, our team's WordPress and sysadmin experience will be hard to match.
Pressable, on the other hand, uses dedicated server infrastructure. While dedicated servers can offer good performance, they are not as scalable as cloud solutions.
With Kinsta, you get access to machines with a lot of CPUs and hundreds of gigabytes of RAM. Matching those specs with a physical server would be a challenge, and in most cases prohibitively expensive.
Finally, Kinsta enables you to choose from over ten standard hosting plans (custom plans not included). However, we don't 'hide' the best features only for the highest-paying clients. Kinsta's broad selection of plans is all about providing you with plenty of options when it comes to scalability.
With Pressable, you get to choose from four plans that support up to 20 WordPress websites. Kinsta's plans, on the other hand, enable you to host up to 150 simultaneous WordPress installations or even more if needed.
Starting at just $35 per month, Kinsta plans include all of these technical elements and more. For each site hosted on our platform, we use LXD-managed hosts and LXC software containers. This means that every site has its own isolated container equipped with all the necessary resources, including MySQL, PHP, Linux, and Nginx. 
Kinsta's scalable infrastructure also enables you to upgrade or downgrade with ease. Plus, we have custom-compiled Linux packages and Nginx rulesets that enable us to maximize the performance of your WordPress sites, as well as more than 30 different software packages and PHP extensions.
With Kinsta, configuration is never a concern. You can launch a new WordPress site quickly and easily directly from your MyKinsta dashboard, and choose from any of our 24 global data centers. 
Kinsta eliminates the need for any caching plugins or add-ons because we use different types of caching systems to reduce server load and accelerate response times.
As part of our Cloudflare integration, Edge Caching saves your Kinsta site/page cache to any of Cloudflare's global network of 275+ data centers.
Edge Caching is included free with all Kinsta plans and cuts the time needed to serve cached WordPress HTML by an average of more than 50%!
We also understand that uptime is a critical priority, which is why we offer compute-optimized C2 Google Cloud machines that enable our customers to see major improvements in average response times. In fact, depending on the type of site you're running, simply switching to Kinsta could result in an immediate speed improvement between 20% and 300%!
I have been transferring a WordPress site to their servers with over 8,000 posts/pages and they have been extraordinary with their help. I am used to only ask for access with my previous host but have to do all of the work myself, and Kinsta goes above just giving me access and actually fixes my issues. It really feels like paying for more than just a hosting platform, but a service/support system that is available 24/7 to help me within minutes. This is amazing!
Bottom line: Using Kinsta as your managed WordPress hosting provider can save you a lot of time and money (not to mention avoid plenty of headaches and frustration).
Expert Support for WordPress
Sooner or later, every website runs into technical issues. If your website breaks and you're not sure what the cause is or how to troubleshoot it, it can result in prolonged downtime.
At Kinsta, we can help you take care of any WordPress technical issue, regardless of your plan. We have a team of WordPress experts that treat every customer and site as mission-critical. Our WordPress experts and Linux engineers are ready to provide quick, concise answers to your questions and concerns. 
In addition to multilingual support and resources that are available in 10 languages, we also have an initial ticket response time of under two minutes. If you don't believe us, just ask some of our clients!
For the past two years, more than 97 percent of our customers closed a chat support session happy or satisfied with the support they received:
Kinsta has allowed us to offer a bulletproof service to our top tier clients and keep them happy. Especially those who have traffic spikes with sudden server demand.
To make our customer support as quick and convenient as possible, we use the Intercom customer messaging platform. Plus, all communications are logged, meaning you won't ever need to repeat yourself to multiple support agents. 
With Pressable, the level of support you receive depends on your plan. The entry-level plan only comes with standard support, with priority support only available as an upgrade. Support is provided via a private Slack channel, as well as a traditional ticket system.
Uncover your web app's performance bottlenecks.
Our experts will run a free performance audit of your website or app and share the results within 24 hours.
MyKinsta: A Custom-Built Dashboard for Powerful Site Management
Pressable offers a custom dashboard that gives you access to admin features outside of WordPress. Its dashboard is easy to use, but it's a bit lacking when it comes to advanced features.
At Kinsta, our mission is to make managing your WordPress site as simple and straightforward as possible. This is why we custom-built our own user portal, MyKinsta, specifically for WordPress site management: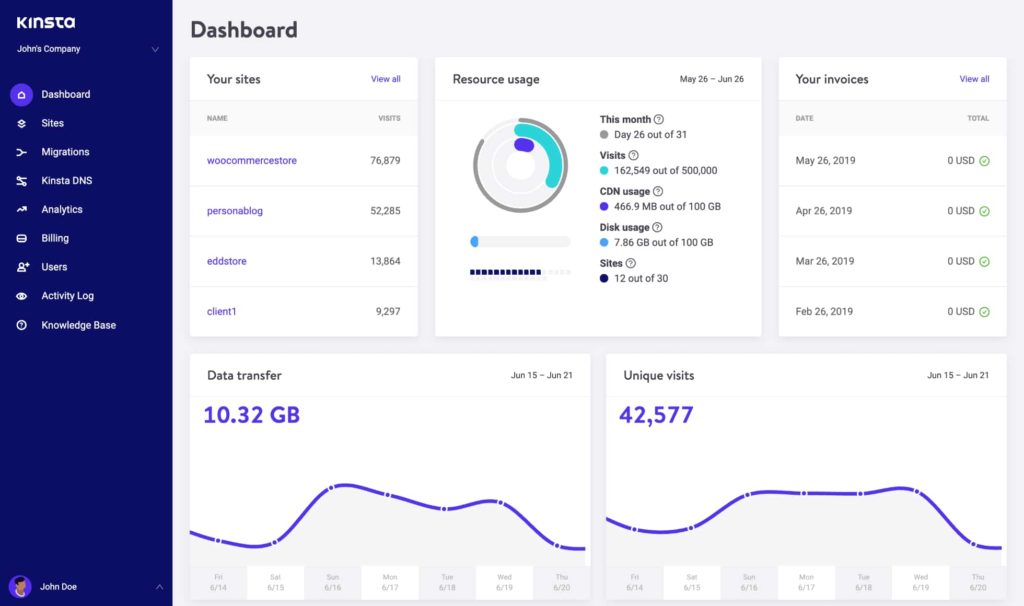 Let's take a look at some of the powerful features that make our MyKinsta dashboard so useful:
One-click staging environments, and an option to restore backups to production or staging. Pressable also offers staging functionality, but with a limited number of sites.
Quick phpMyAdmin access.
Premium Amazon Route 53 DNS, to manage your DNS records directly in the dashboard. 
A built-in Cloudflare integration with optimized settings to secure and boost the performance of your site without the need for a separate Cloudflare subscription.
A free Application Performance Monitoring (APM) tool that logs information about your website's performance, including PHP processes, database queries, and more. 
Detailed analytics and insights, including bandwidth and visitor data, performance analysis data, CDN usage and insights, and cache HIT and MISS ratio. 
One-click CDN setup.
A search and replace tool to make performing bulk updates easy.
One-click PHP version switching, and the option to restart PHP when needed. 
A dashboard tool to purge the site cache.
Simple redirect management.
The ability to quickly and easily block IP addresses via the IP Deny tool.
New Relic integration (license is required)
Free Cloudflare SSL certificates with support for wildcard domains, and the option to import your own. 
A WordPress debugging tool.
Simple password protection for your environment, and the option to strengthen login security by adding your SSH keys to the dashboard. 
A multilingual dashboard that's available in 10 languages: English, Italian, Spanish, French, German, Portuguese, Japanese, Swedish, Danish, and Dutch.
You can try out MyKinsta for yourself with our free demo! All you have to do is register for an account, then you can check out the user-friendly interface and explore the various tools to learn for yourself what makes MyKinsta unlike the others!
If you have problematic high traffic sites like us, you'll love their migration service — they took care of everything and even identified some problem plugins that had been installed by former members of our team. I would have spent hours on the migration due to the size without their help.
At Kinsta, we value our clients' feedback and are always looking for opportunities to improve. We regularly incorporate the requests and feedback we receive to enhance our offerings. We're always innovating and exploring new ways to make your website and hosting experience better!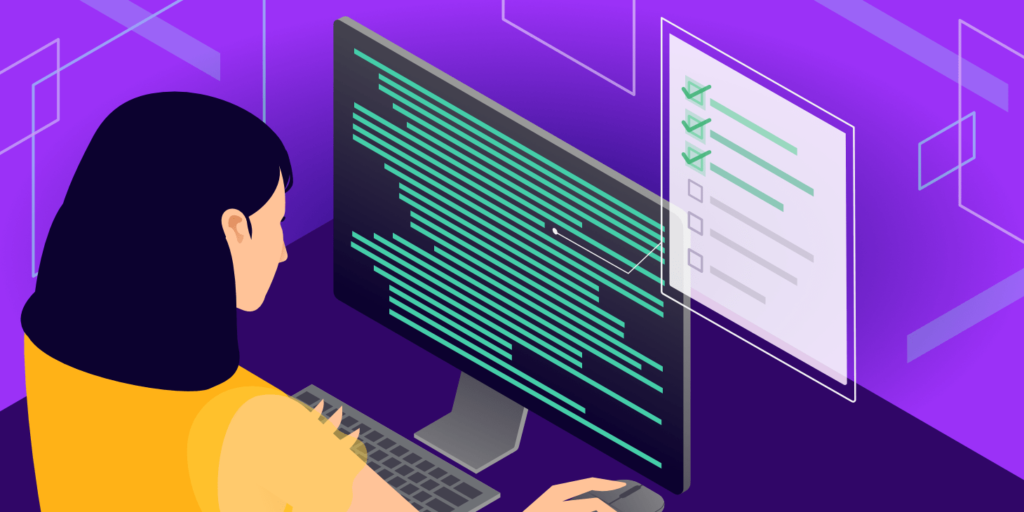 Kinsta is Developer-Friendly
Although Pressable offers some features geared towards programmers and developers, they're arguably not the service's core audience. Kinsta, on the other hand, provides you with plenty of features built with developers in mind.
Many of our team members are developers and engineers themselves, so we understand what it means to create a 'developer-friendly' product. This is exactly what we did with our MyKinsta dashboard. 
As your managed WordPress host, Kinsta provides you with an expansive collection of tools and features to help streamline your workflow efficiency. Some of the developer-friendly features you'll have access to at Kinsta, which you won't necessarily get with Pressable, include:
WP-CLI, SSH, and Git access included, regardless of your plan. 
Six different types of backups available: automatic/daily, optional hourly, manual, system-generated, downloadable, and backups sent automatically to Amazon S3 or Google Cloud Storage. We also offer one-click backup and restore features. Pressable only offers daily automatic backups.
A Redis add-on for quicker database performance, which Pressable doesn't offer.
The option to load your site over reverse proxy. Pressable does not provide support for reverse proxy.
Unrestricted access to your site's critical files. 
The ability to use custom setups such as Bedrock and Trellis.
An option to run a different version of PHP for each live and staging site.
Default enabled post and page revisions.
The ability to restore backups to staging as well as production. 
An Application Performance Monitoring (APM) tool that lets you debug your website, thanks to in-depth logs you can access from the MyKinsta dashboard.
Staging environments are critical for testing plugins, themes, and core updates to ensure that they're compatible with your website and won't cause anything to break. They're also an important feature for debugging code and developing projects before pushing them live.
With Kinsta, your staging sites aren't included in your total disk space usage (only your live sites are).
Develop Locally with DevKinsta
For developers and agencies, Kinsta offers a simple to use (but powerful) local development tool called DevKinsta. With DevKinsta, you can launch WordPress sites with a full hosting stack and SSL support on your local computer with just a few clicks.
DevKinsta is fully integrated with MyKinsta and Kinsta's hosting platform, which means you can develop locally and push updates directly to a staging environment on Kinsta! Pressable doesn't have an integration with a local WordPress development tool, which means there is no way to clone and push WordPress sites for their customers. If you're a busy freelance or agency developer, DevKinsta's advanced features and MyKinsta integration can be a huge time saver.
Free Performance Monitoring Tool
WordPress is a dynamic CMS, which means it's constantly executing PHP code in the background. Depending on your theme and plugin configuration, it's possible for your site to get bogged down with bloated and inefficient code.
That's where APM (Application Performance Monitoring) tools can help. An APM monitors requests to your site, and tracks various metrics like external API requests, database queries, PHP execution time, and more. This information allows you to quickly debug and troubleshoot performance bottlenecks.
All Kinsta plans come with a free custom-built APM tool that can be easily accessed right in the MyKinsta dashboard. Kinsta APM provides you with key WordPress performance insights without the need for expensive third-party subscriptions to other APM services.
With Kinsta APM, you can debug the following and more:
Slow WordPress plugins and themes.
Long calls to external APIs and domains.
Unoptimized MySQL database queries.
Pressable plans do not come with a free APM tool, which makes it very difficult to quickly troubleshoot performance issues on your WordPress site.
Optimized for WooCommerce and Easy Digital Downloads
We're aware that ecommerce functionality is vital for many businesses, and we know these websites come with particularly challenging and complicated demands. This is why Kinsta is optimized for online stores.
We take care of caching for you at the server level to deliver fast page loading times. Plus, our solution is configured to work out of the box for WordPress, WooCommerce, and Easy Digital Download sites. 
To optimize the speed and performance of your online store, we offer automatic purging of cache and archive pages, as well as:
Excluding 'My Account', checkout, cart, and other pages that shouldn't be cached
Ensuring a smooth checkout process by automatically bypassing the cache for users when "woocommerce_items_in_cart" or "edit_items_in_cart" are detected
Putting specific rules in place to allow EDD and WooCommerce functionality during server-level page caching
Pressable takes a different approach when it comes to ecommerce. The platform offers WooCommerce-specific hosting plans, but to customize it you need add-ons, automatic WordPress installations, and access to Slack support.
Each year, Review Signal conducts a performance test and review for the top hosting companies in the industry. For the past five years, Kinsta has scored top-tier status! Let's see how the two stacked up against each other in the most recent round in which both participated.
Web Performance Benchmarks (Pro Plans)
To run these web performance benchmark tests, Review Signal created identical WordPress dummy websites. The same plugins were installed, except for any tools required for each provider's specific caching mechanisms.
To measure the overall loading time in seconds (first view only), Review Signal used WebPageTest.org to test 11 different geographical locations. Let's take a look at the results (the lower the number is, the better):
| | Kinsta | Pressable |
| --- | --- | --- |
| Dulles | 0.373 | 0.479 |
| Denver | 1.163 | 1.334 |
| Los Angeles | 0.79 | 0.879 |
| London | 1.104 | 0.856 |
| Frankfurt | 1.009 | 0.923 |
| Mauritius | 2.446 | 2.355 |
| Singapore | 1.729 | 2.224 |
| Mumbai | 2.279 | 1.828 |
| Tokyo | 1.183 | 1.733 |
| Sydney | 1.776 | 1.903 |
| São Paulo | 1.364 | 1.375 |
As you can see, Kinsta beat Pressable in 7 out of the 11 tests.
For the uptime monitoring testing, two services were used: UptimeRobot and StatusCake. On both, Kinsta had a perfect uptime:
| | Kinsta | Pressable |
| --- | --- | --- |
| Uptime Robot | 100% | 99.94% |
| StatusCake | 100% | 100% |
Next up is the Load Impact test, which was used to assess the caching system's performance on each site:
| | Kinsta | Pressable |
| --- | --- | --- |
| Requests | 672,240 | 656,609 |
| Errors | 0 | 3 |
| Data Transferred (GB) | 36 | 34.75 |
| Peak Average Load Time (seconds) | 0.416 | 0.443 |
| Peak Average Bandwidth (Mbps) | 583 | 573 |
| Peak Average Requests/Sec | 1,300 | 1,260 |
Unlike Pressable, Kinsta didn't have any errors. Even with more requests and data transferred, Kinsta still had a better peak average load time.
Although both Kinsta and Pressable score top marks when it comes to performance and uptime, Kinsta gets much better results as you scale traffic on almost all of our plans.
Kinsta's scalable cloud infrastructure makes it so that server resources can be easily scaled up or down as needed. We use Google's latest Compute-Optimized (C2) virtual machines, and automatically allocate hardware resources, including CPU and RAM, to each site container as they're needed. 
With Pressable, you get plans that are great options for performance-driven WordPress projects. However, once you get to the business or enterprise level, Kinsta's architecture makes it a more competitive choice.
Kinsta is Safe and Secure
When using Pressable, you get access to several standard security features. Kinsta takes both active and passive measures to secure every site hosted with us, regardless of your plan.
Our security features include:
Monitoring your sites every two minutes for uptime, which equates to 720 daily uptime checks
Implementing strict software-based restrictions
Two-Factor Authentication (2FA) support
A free Cloudflare integration, which includes a secure firewall with built-in DDoS protection.
Automated backups for all plans
Isolated LXC containers
Self-healing PHP
Only support for encrypted SFTP and SSH connections (no FTP)
With Pressable, you rely a lot on the Jetpack plugin for monitoring and security. With Kinsta, you have real WordPress experts who ensure that your sites are protected at all times.
Kinsta provides premium uptime monitoring for all of your WordPress sites via our in-house developed monitoring system. The status of the sites hosted on our platform is checked every two minutes. In the off-chance that something were to happen to your site, we offer a free 100% hack-fix guarantee. 
If we are notified of an issue with your site, we'll also contact you immediately.
Kinsta Has a Global Presence
Kinsta has a global presence, with 35 data centers (and counting) spanning five continents. Our massive footprint makes it easy for you to pick a different data center for each of your websites. Plus, there are no extra fees or hidden charges!
Our data center locations include:
Changhua County, Taiwan
Hong Kong
Tokyo, Japan
Osaka, Japan
Seoul, South Korea
Mumbai, India
Delhi, India
Jurong West, Singapore
Jakarta, Indonesia
Sydney, Australia
Melbourne, Australia
Warsaw, Poland
Hamina, Finland
Madrid, Spain
St. Ghislain, Belgium
London, United Kingdom
Frankfurt, Germany
Eemshaven, Netherlands
Zurich, Switzerland
Milan, Italy
Paris, France
Tel Aviv, Israel
Montréal, Canada
Toronto, Canada
São Paulo, Brazil
Santiago, Chile
Council Bluffs, Iowa, USA
Moncks Corner, South Carolina, USA
Ashburn, Virginia, USA
Columbus, Ohio, USA
Dallas, Texas, USA
The Dalles, Oregon, USA
Los Angeles, California, USA
Salt Lake City, Utah, USA
Las Vegas, Nevada, USA
Pressable offers four data centers globally, with one location in the Netherlands and the other three in the United States.
Free WordPress Migrations
If you're interested in moving your site to managed WordPress hosting, our hassle-free migrations make doing so quick and easy. We handle the entire migration process for you, so you won't have to deal with complex technology or risk losing critical data.
All Kinsta plans comes with one or more free premium migrations. To get started, simply complete our site migration request form, and a member from our team will reach out to schedule a time for the migration. Then you can track the migration status directly from your MyKinsta dashboard!
Kinsta is the best WordPress host I've had so far. They are quick to help, easy to deal with, and really know their stuff. Plus their servers are super fast!
Pressable also offers a migration service for new customers. However, the type of migration experience you have depends on the plan you purchase. Free, automated migrations performed by the support team are only available with higher-level plans.
Turbocharging Your Content Delivery with Kinsta CDN
All Kinsta plans include a free Content Delivery Network (CDN) via our Cloudflare integration. This is a premium HTTP/3-enabled CDN, to deliver your content lightning-fast across the globe.
As part of our Cloudflare integration, our built-in Edge Caching saves your Kinsta site/page cache to any of Cloudflare's global network of 275+ data centers.
When site visitors load your website in their browser, cached responses will be delivered from the location closest to them. Edge Caching is included free with all Kinsta plans and doesn't require a separate plugin.
Our content delivery architecture was tailor-made for high throughput and low latency. You can enable Kinsta CDN directly from your MyKinsta dashboard.
With Pressable, you also get access to a global CDN network, which you can enable for your websites through the MyPressable dashboard. However, there are only 28 PoPs available.
Feature Comparison Overview
Now that we've made it this far, let's take a look at some of the biggest differences between Kinsta vs Pressable:
| | Kinsta | Pressable |
| --- | --- | --- |
| Pricing | Plans start at $35/month | Plans start at $25/month |
| Money-Back Guarantee | 30 days on all plans | 30 days on all plans |
| Premium 24×7 Support | All plans | Varies by plan |
| Core Infrastructure | Google Cloud Platform | Dedicated servers |
| SSH Access | All plans | Via support |
| Global Data Centers | 35 locations | 4 locations |
| Bandwidth Limits | No limits (within AUP) | No limits |
| Container Technology | 100% resource isolation on all plans | No |
| Free Cloudflare Integration | ✓ | X |
| Built-in Edge Caching | 275+ | Not specified |
| Free Migrations | All plans | Varies by plan (plugin migrations) |
| Staging Environment | All plans | All plans |
| PHP Versions | PHP 8.0, 8.1, 8.2 | PHP 7.2, 7.3, 7.4 |
| Switch PHP Engine | One-click change in dashboard | One-click change in dashboard |
| Free CDN | 200+ PoPs (All regions) | 28 (All regions) |
| Free Premium DNS | Amazon R53 | X |
| Free DDoS Protection | ✓ | X |
| Free SSL Certificates | All plans | All plans |
| Uptime Monitoring | All plans | X |
| Resource Limits | Only limited by PHP workers | Varies by plan |
| Multisite Support | Pro plans and higher | Yes |
| Free APM Tool | Kinsta APM | X |
| IP Geolocation | ✓ | Not specified |
| Reverse Proxy Support | ✓ | Not specified |
| Redis Add-on | ✓ | Not specified |
| New Relic (license required) | ✓ | X |
| Multilingual Dashboard | English, Spanish, German, Dutch, Portuguese, Italian, French, Swedish, Danish, Japan | Not specified |
Best Affiliate Program in the Industry
Kinsta always goes above and beyond to exceed our clients' expectations. This is one of the reasons many of our happy customers are often eager to help spread the word about our WordPress hosting solutions. Our drive to satisfy our customers, and their eagerness to share our solutions with others, has helped position us to become one of the fastest-growing hosts in the industry. 
This is part of the reason we're proud to offer an affiliate program, one of the highest paying in the industry, that provides the opportunity for true profit sharing as well as an effective way to earn a passive income!
As a Kinsta affiliate partner, you can earn as much as $500 (depending on the plan) for every signup referred to us. Additionally, you'll receive a 10% monthly recurring commission for the lifetime of the customers referred.
Another benefit of our affiliate program is that we use a custom-built dashboard so you won't ever have to deal with confusing third-party platforms like you would with Pressable. Everything is accessible and straightforward. 
Pressable's affiliate program is powered by Share-A-Sale. Using its program, you can earn up to $100 per referral.
Join Others Making the Switch to Kinsta
At Kinsta, our mission is to offer the fastest, latest technology possible. We're always evolving and adapting to utilize the most innovative solutions available.
When you check out our many feature updates, you can see that no other hosting provider releases new options, tools, and integrations at the same rate and frequency.
Although Pressable may offer a standard hosting experience, it doesn't offer the robust performance, speed, and innovation that Kinsta does. If you're ready to unlock your WordPress website's true potential and switch to the best-managed WordPress hosting provider out there, try out Kinsta risk-free for 30 days!